The annual spring peony garden party will be held until May 12th (Friday).
The rare breed exhibition opens on the first day.
During Golden Week, there are 30,000 peonies floating in the pond in the park called "Ikeizumi Botan," and the
sidewalks are lined with peonies like a carpet called "Botanenji.
" We will perform "Golden Ikeizumi Peony" for a limited time.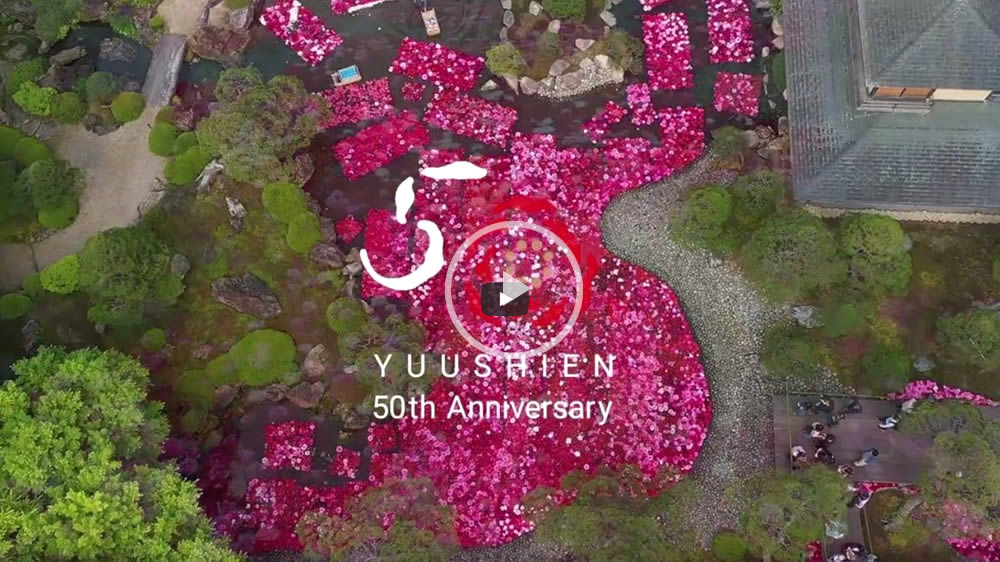 Daikonjima is full of flowers, and the spring garden party is a flower relay that begins with the arrival of spring.
Please enjoy the flower picture scrolls of Yushien.
It is a big event that can be realized because it is the best peony production area in Japan.
April 29
(Saturday/holiday)
– May 5
(Friday/holiday)
Peonies spreading all over with fragrance
Daikonjima is Japan's number one producer of peony seedlings. Currently, about 1.2 million grafted peony seedlings are produced annually.
About 80% of all peony seedlings are non-flowering first-year plants for overseas export. In addition, since the stocks for domestic sale are aimed at fattening the stocks, the buds are picked before flowering. In other words, farmers on Daikonjima grow seedlings, not peony flowers.
However, this does not mean that peony flowers do not bloom at all. Yushien's agricultural production corporation cooperates with surrounding farmers and owns a large number of mother trees. The mother tree is a large stock used for grafting. It is made to bloom once every few years for purposes such as crossbreeding. The number of flowers blooming easily exceeds tens of thousands of flowers every year.
This year, too, 30,000 peonies will float on the pond in Yushien. The peony flower is known as the king of flowers. This is an event unique to Japan's No. 1 flower production area that makes abundant use of by-product flowers.
*Please be aware that there are places where your feet are slippery.
*The volume, duration, and content of this event may change depending on the flowering status of the peonies.
*If it rains, you may not be able to see the flowers in perfect condition.
*This event is cooperating with Daikon Island peony farmers.
On the last day of Golden Week, everything is wrapped in yellow! ?
Limited to 2 days, May 6th
(Sat)
and May 7th
(Sun)
A special event will be held at Yushien for two days on the last day of Golden Week at the end of the spring peony garden party. Please look forward to it.
If you wear a yellow item on the day of the event, you will receive a limited number of 1000 yellow bean paste peony manju!
*Note: The period of "Golden Ikeizumi Peony" may change due to weather conditions, and it may become the regular "Red and White Ikeizumi Peony".
It is a special garden path only for this time of year, which is not usually available.
April 29
(Sat/Holiday)
– May 7
(Sun/Holiday)
Peony along the road will appear again this year. The tea room is covered with peonies like a carpet. It is a special road only for this time of year, which is not usually available.
A large exhibition of peony with 100 varieties from the latest varieties to overseas varieties and classic varieties! !
April 8
(Sat)
– May 7
(Sun/holiday)
100 varieties of peony large competition decided by 50,000 votes
A large exhibition of 100 varieties of peony, where you can enjoy the taste of Edo by displaying the latest varieties of buttons, overseas varieties, and classic varieties all in one place. This is a free production event. Selected breeds will be decided from the results of 50,000 votes.
From 10:00 on Friday, April 7
Kaneko, the chief priest of Zenryu-ji Temple on Daikon Island, opens the ceremony with a prayer.
Peony petals spread all over the area around the "Peony Kannon Bodhisattva Statue".
The leading figure in the shadow of Japan's number one peony production area. Built in gratitude to the peddler woman. A "matchmaking spot" recommended by Onmyoji. Even if you can receive the kindness and strength of a woman!?
April 8 (Sat) – May 7 (Sun/holiday)
We have a lot of reasonable bargains and limited products. We also sell peonies with guaranteed flowering at our directly managed stores.